To download your local Cheeseburger in Paradise menu with pricing,
enter you city, state or zip code below:
Menu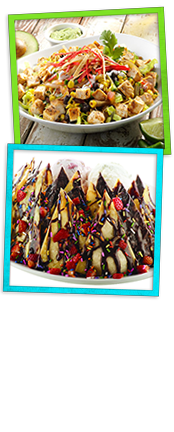 We believe that the little details make a difference at our bar & grill, so we use only fresh chicken, seafood and fresh, never frozen, 100% all-American premium cut beef with no fillers or additives. We combine the freshest high quality ingredients in all of our recipes, including our homemade salad dressings, sauces and seasonings. You'll experience the attention to detail and the concentration on quality in all of our dishes.
Our Cheeseburgers may have made us famous, but our house specialties are what set us apart from "Just another Burger Joint." Dive in to our Kingston Salmon, Calypso Chicken Salad, Chipotle Fajita Bowls, Chocolate Nachos or awesome Kids' Menu.
Our Bar serves up cocktails with a distinctive Island flair. Try one of our famous frozen specialties with our signature "Garnimals." The coolness extends to our draft beer selection which is always pouring at an ice-cold 32 degrees. Try your favorite with one of our 100 oz Beer Tubes!