Boat
drinks
These are not your typical frozen cocktails. All of our frozen drinks are prepared fresh from scratch using real fruit to give you a true taste of the Islands.
C.I.P. Cocktail
Try our Famous creation, Made with layers of our Frozen Margarita, Strawberry Daiquiri and Pina Colada topped with a float of Blue Curacao. You'll feel like you're on Vacation!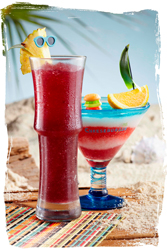 Strawberry Daiquiri
A smooth frozen blend of fresh strawberries, natural lime juice and Spiced Rum.