Boat
drinks
These are not your typical frozen cocktails. All of our frozen drinks are prepared fresh from scratch using real fruit to give you a true taste of the Islands.
C.I.P. Cocktail
Made with layers of Frozen Sangria, Margaritaville Tequila Margarita, Strawberry Daiquiri, Sugar Island Coconut Rum Piña Colada topped with a float of blue curacao.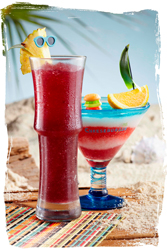 Strawberry Daiquiri
Sailor Jerry Spiced Navy Rum blended with fresh strawberries and natural lime juice and garnished with Berry Beth.
Lady of the Sea
Layers of Frozen Sangria, Pina Colada and Strawberry Daiquiri garnished with Penelope Parrot.
Frozen Sangria
Reál Sangria and Cruzan Pineapple Rum blended with red grape, cherry, lemon, orange, lime and pomegranate juices and garnished with Angelina Angelfish.
Euphoria
Frozen Sangria, Margarita and Strawberry Daiquiri layers garnished with Lizard Lips.