Fresh
salads
In the mood for something on the lighter side? Each of our salads are made fresh to order! Try our signature Calypso Chicken Salad or our Sailor Salad with Grilled Steak.
All of our salads are freshly made to order with a blend of crisp romaine lettuce, iceberg lettuce and spring mix
A Side Salad can be ordered: A La Carte, as a substitution,or in addition to any entrée, handheld or burger purchase.
All items may vary by location, please contact your local Cheeseburger in Paradise for location specific menu information.
Click here to contact the location nearest you.
Side Salad
Tomato wedges, red onions, chopped bacon and shredded cheese
Chicken Caesar Salad
Fresh hearts of romaine lettuce topped with chilled grilled chicken, Parmesan cheese, house-made croutons and Caesar dressing
Sailor Salad
Crumbled bleu cheese, apples and honey roasted almonds
Malibu Salad
Avocado, tomatoes, pineapple, bacon, red onion, cheese, and green onions
Calypso Salad**
Strawberries, pineapples, Mandarin oranges, apples, red onions and honey roasted almonds
Add to Any Salad
Grilled or Pulled Chicken, Blackened Shrimp (5), Salmon or Grilled Seasoned Flat Iron Steak (additional charges apply)
Dressings
Citrus vinaigrette, 1000 island, balsamic vinaigrette, ranch, honey mustard or bleu cheese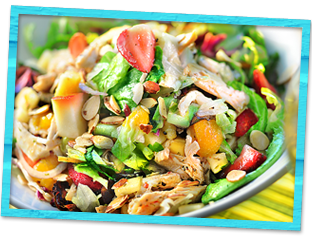 * These items are cooked to order; however consuming raw or undercooked meats and seafood may increase your risk of food-borne illness.
** These items contain nuts.