Non-Alcoholic
drinks
Quench your thirst with one of these refreshing non-alcoholic alternatives. One sip and you will be whisked away to the sandy beaches for a tropical escape.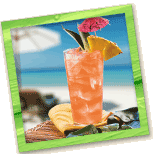 Island Paradise
Pineapple and coconut are complemented with grenadine and a splash of Sprite®.
Hand-Dipped Milkshakes
Our homemade hand-dipped shakes are made with Blue Bell® ice cream. Choose from the following flavors: vanilla, chocolate, strawberry or Oreo.
Jamaican Root Beer Float
Our Caribbean version of a Root Beer float. Blue Bell® vanilla ice cream, coconut flavor and Barq's® Root Beer. Enjoy unlimited refills of Root Beer.
Flavored Ice Tea
Peach, Mango, Raspberry, and Blueberry. Enjoy unlimited refills.
Also Available
Strawberry Lemonade
Bottled Water
Island Lemonade
Lemonade Iced Tea
Red Bull
Freshly Brewed Coffee
Sodas
Unlimited refills on sodas, coffee, tea and lemonade.
Island Favorite